---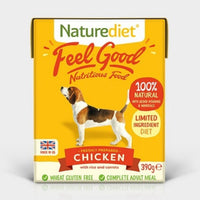 Naturediet Feel Good Chicken 390g x 18
Naturediet
Regular price £27.72
Tax included.
Made to a delicious recipe of freshly prepared British chicken, carrots and rice. This complete and nutritionally balanced meal is 100% natural and contains all the essential nutrients your dog needs for a healthy diet.
Gently digested and highly palatable, this tasty single protein chicken meal is suitable for all breeds of adult and senior dogs, as well as puppies over 6 months old.
Appropriate for dogs requiring a low purine diet and those suffering from sensitive digestion and allergies.
100% natural with added vitamins & minerals
Made in GB
Limited ingredient diet
Wheat Gluten Free
Complete feed for dogs
Freshly prepared with responsibly sourced ingredients
Gently steam cooked with a little water
Gentle on sensitive tummies
Hypoallergenic
Loved by fussy eaters
Typical Analysis
Crude Protein 10%
Crude Oils & Fats 8%
Crude Fibres 2%
Crude Ash 2.5%
Moisture 72%

ME 130kcal/100g
Composition
Chicken 60%
Rice 10%
Vegetables 6%,
Natural Ground Bone
Dried Seaweed 
Nutritional Additives
Vitamin A 2,580IU
Vitamin D3 215IU
Selenium (Sodium Selenite) 0.02mg
Iron (Iron (II) Sulphate Monohydrate) 17.2mg
Copper (Cupric Sulphate Pentahydrate) 4.8mg
Manganese (Manganese Sulphate Monohydrate) 5.7mg
Zinc (Zinc Sulphate Heptahydrate) 47.8mg