---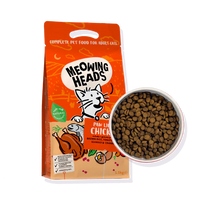 Meowing Heads Paw Lickin' Chicken 4kg
Meowing Heads
Regular price £44.99
Tax included.
Meowing Heads Paw Lickin' Chicken is made with 100% natural chicken, fish and eggs
This super yummy adult cat recipe is made using only the best quality, natural ingredients. Approved by vets, Paw Lickin' Chicken is packed with highly digestible protein, has a unique anti-hairball formula and is taurine-enriched to keep them bright-eyed and bushy-tailed. This whisker-licking dinner will have your kitty meowing for more!
High-quality natural protein to aid growth and repair
Contains a special blend of plant fibres to reduce hair balls
Taurine-Enriched to help maintain healthy eyes and immune system
Natural Ingredients - FREE FROM artificial colours, flavours & preservatives
Added vitamin and minerals, for a complete & balanced pet food
Approved by Meowing Heads vet for adult cats
Composition
Chicken (32%), Brown Rice, Dried Chicken (17%), Dried Fish (Salmon, Tuna & Blue Whiting) (9%), Dried Chicken Egg (8%), Oats, Chicken Gravy (2%), Salmon Oil, Chicken Fat (1%), Yeasts, Malt Extract, Cellulose, Minerals, Seaweed, Tomato, Carrot, Cranberry.
Analytical Constituents (%)
Crude Protein 36%, Crude Fat 18%, Crude Fibres 3%, Crude Ash 9%, Omega-6 3%, Omega-3 0.8%
Additives (Per Kg)
Additives (per kg): Amino Acids: Methionine 1,120mg, Taurine 1040mg Vitamins: Vitamin A 26,670 IU, Vitamin D3 560 IU, Vitamin E 200 mg. Trace Elements: Zinc as Zinc Chelate of Glycine Hydrate 89mg, Iron (as Iron (ll) Chelate of Glycine Hydrate) 80mg,  Manganese (as Manganese Chelate of Glycine Hydrate) 10mg, Copper (as Cupric Chelate of Glycine Hydrate) 6mg, Iodine (as Calcium Iodate Anhydrous) 1.5mg
FREE FROM ARTIFICIAL COLOURS, FLAVOURS & PRESERVATIVES