---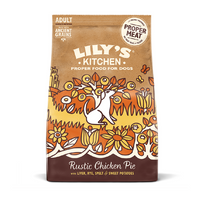 Lily's Kitchen Rustic Chicken Pie
Lily's Kitchen
Regular price £10.50
Tax included.
Lily's Kitchen Rustic Chicken Pie dry food is guaranteed to get your dog's tail wagging.
A mouth-watering combination of chicken, wholesome ancient grains and vibrant veggies such as sweet potato, carrots and apple, this delicious recipe is nutritionally complete and balanced.
Lily's Kitchen ancient grains mix of spelt, rye and amaranth are a clever combination of satisfying carbohydrates to help keep hunger at bay, whilst providing your dog with essential micronutrients.
Lily's Kitchen use proper meat in their recipes, and chicken in particular is full of goodness and often easier to digest. It also provides nourishing protein, which is vital for your dog's health.
They add glucosamine and chondroitin for bone and joint support, prebiotics to help establish healthy digestion and essential nutrients to help maintain your dog's immune system. It also contains salmon oil, a fantastic source of Omega 3 & 6 fatty acids, great to help support the coat, heart, brain and joints.
Feeding guidelines: This is a nutritionally complete pet food for adult dogs 4 months + It has everything your dog needs to stay healthy and is full of natural ingredients with added vitamins and minerals. Serve with a bowl of fresh water nearby.
Ingredients:
Fresh Chicken (35%), Rye (14%), Freshly Prepared Seasonal Poultry (Chicken, Turkey, Duck and Quail) (11%), Spelt (10%), Potatoes, Pork Liver (3%), Sweet Potato (2%), Flaxseed, Chicken Gravy, Quinoa (1.5%), Amaranth (1.5%), Potato Protein, Minerals, Botanicals & Herbs* (1%), Salmon Oil, Egg, Prebiotics (Mannan Oligosaccharides 1.3g/kg, Fructo-oligosaccharides 0.8g/kg), Carrots, Apples, Joint Care Mix (Methylsulfonylmethane 200mg/kg, Glucosamine 150mg/kg, Chondroitin Sulphate 150mg/kg), Cranberries, Spinach.
*Botanicals & Herbs: Alfalfa, Chickweed, Cleavers, Golden Rod, Nettles, Seaweed, Dandelion Root, Celery Seeds, Milk Thistle, Burdock Root, Marigold Flowers, Rosehips.
Calories
347 kcal/100g
Analytical constituents
Crude Protein 22%
Crude Fat 12.5%
Crude Fibres 2.5%
Crude Ash 7.3%
Omega 6 1.9%
Omega 3 0.7%
Calcium 1.1%
Phosphorus 0.9%
Vitamins (per kg):
Vitamin A (as Retinyl Acetate) 18,000 IU, Vitamin D3 (as Cholecalciferol) 1,800 IU, Vitamin E (as Alpha Tocopherol Acetate) 150 IU, Taurine1000mg, L-Carnitine 500mg.
Trace Elements (per kg):
Zinc (as Zinc Chelate of Amino Acids Hydrate) 50mg, Manganese (as Manganese Chelate of Amino Acids Hydrate) 10mg, Copper (as Copper (II) Chelate of Amino Acids Hydrate) 9mg, Selenium (as Organic Selenium S. cerevisiae CNCM 1-3060) 0.1mg, Iodine (as Calcium Iodate Anhydrous) 0.5mg.