---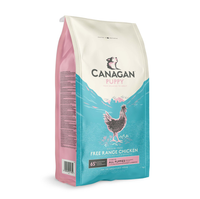 Canagan Puppy Free Range Chicken from Weaning to Adult
Canagan
Regular price £19.99
Tax included.
Grain free puppy food specially formulated with prebiotics for gut health, healthy omega-3 fatty acids, DHA for brain development and added joint care. Supports growing puppies from weaning to adulthood.
Only wholesome ingredients:
FREE-RANGE CHICKEN
Chicken is an excellent source of protein, vitamins, phosphorous and selenium which is good for the immune system.
Sweet Potato
A highly digestible premium source of slow-release energy, rich in anti-oxidants and a great source of soluble fibre.
Seaweed
Provides a natural and valuable source of minerals which contain iodine to support thyroid function and control metabolism.
Marigold, Cranberry and Camomile
Marigold stimulates white blood cell production and strengthens the immune system. Cranberry is rich in Vitamin C and helps promote a healthy urinary tract. Camomile is thought to reduce stress.
Composition:
Freshly Prepared Free Range Chicken (29%), Dried Chicken (26.5%), Sweet Potato (11%), Potato, Peas, Chicken Fat (4%), Alfalfa, Dried Egg (3%), Chicken Gravy (1.5%), Minerals, Salmon Oil (1%), Glucosamine (1,000 mg/kg), MSM (1,000 mg/kg), Apple, Carrot, Spinach, Psyllium, Seaweed Oil Extract, Fructooligosaccharides, Mannanoligosaccharides, Chondroitin Sulphate (700 mg/kg), Green Lipped Mussel, Camomile, Peppermint, Marigold, Cranberry, Aniseed & Fenugreek.
Analytical Constituents:
Crude Protein 34%, Crude Fat 15%, Crude Fibre 4%, Crude Ash 9%, Moisture 8%, Omega 6 3.6%, Omega 3 0.8%, Calcium 1.6%, Phosphorus 1.3%.
Nutritional Additives (per KG):
Vitamin A 16,230 IU, Vitamin D3 1,980 IU, Vitamin E 240 IU. Trace Elements: Iron (Iron (II) Sulphate Monohydrate) 192 mg, Zinc (Zinc Sulphate Monohydrate) 144 mg, Manganese (Manganous, Sulphate Monohydrate) 45 mg, Copper (Copper (II) Sulphate Pentahydrate) 12 mg, Iodine (Calcium Iodate Anhydrous) 1.92 mg, Selenium (Sodium Selenite) 0.1 mg.