---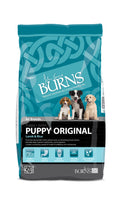 Burns Puppy Lamb & Rice
Burns
Regular price £14.99
Tax included.
You want to give your puppy the best possible start in life. Containing everything a young dog needs for health and wellbeing Burns Puppy Original has been developed to meet the nutritional needs of puppies and junior dogs of all breeds. This premium quality diet is formulated with carefully controlled levels of protein, fat and minerals to promote slow growth and reduce the strain put on developing bones and joints.  Our nutritious puppy food contains oats which release energy slowly, helping your puppy play all day.
Composition:
White Rice (18%), Brown Rice (17%), Lamb Meal (16%), Rice Protein, Oats, Lamb Fat, Peas, Pea Protein, Sunflower Oil, Beet Pulp, Seaweed, Vitamins & Minerals.
Analytical Constituents:
Crude Protein 24.0%, Crude Oil & Fats 15.0%, Crude Fibre 3.3%, Crude Ash 7.0%, Copper 18mg/kg, Sodium 0.17%, Calcium 1.65%, Phosphorus 0.93%, Magnesium 0.11%, Potassium 0.17%, Essential Fatty Acid 6.46%,
Nutritional Additives:
Vitamin A 25,000 iu/kg, Vitamin D3 2,000 iu/kg, Vitamin E 150 iu/kg, Calcium Iodate Anhydrous 1.5mg/kg, Cupric Sulphate Pentahydrate 55mg/kg, Sodium Selenite 0.6 mg/kg, Ferrous Sulphate Monohydrate 160mg/kg, Manganous Sulphate Monohydrate 100mg/kg, Zinc Sulphate Monohydrate 130mg/kg.