---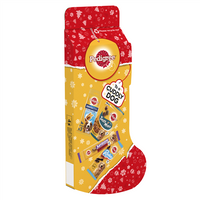 Pedigree Christmas Stocking Dog Treats
Pedigree
Regular price £3.99
Tax included.
Includes 1x Pedigree Rodeo with Beef (4 pieces), 1x Pedigree Tasty Minis Chicken & Duck Flavour Chunks, 1x Pedigree Jumbone with Beef & Poultry and 1x Pedigree Dentastix Daily
Delicious, low-fat dog treats - Pedigree Jumbone dog chews cleverly combine a tough chewy outer with a succulent, tasty centre.
Succulent bite-size dog treats - Pedigree Tasty Minis are delicious treats in a range of tasty flavours & textures. Ideal for training, rewarding or just treating your dog.
Pedigree Dentastix Daily Oral Care dental dog chews are scientifically proven to reduce the build-up of tartar by up to 80%, clean hard-to-reach teeth and support gum health.
Tasty, chewy twists - Pedigree Rodeo dog chews have a deliciously chewy texture that is full of succulent flavour.
Nutrition:
Pedigree Dentastix™ Daily Analytical constituents (%): Protein: 9.6, Fat content: 1.8, Inorganic matter: 5.7, Crude fibre: 0.40, Energy: 320 kcal/100 g, Additives per kg: Nutritional additives: Vitamin E: 1365 mg, Zinc (Zinc sulphate, heptahydrate): 190 mg, Sensory additives: Chicken flavour: 45.9 mg
Pedigree Tasty Minis Chicken and Duck Flavour Analytical constituents (%): Protein: 21.0, Fat content: 11.0, Inorganic matter: 9.0, Crude fibre: 3.0, Moisture: 15.0, Calcium: 1.7, Omega -3 fatty acids: 428 mg/kg, Energy: 333 kcal/100 g, Additives per kg: Antioxidants and Colourants; Nutritional additives: Vitamin A: 3824 IU, Vitamin E: 38.2 mg, Iron (Iron(II) sulphate monoydrate): 11.5 mg
Pedigree Jumbone™ Beef and Poultry Flavour Analytical constituents (%): Protein: 7.0, Fat content: 2.0, Inorganic matter: 4.4, Crude fibre: 0.50, Moisture: 16.0, Calcium: 0.50, Omega-3 fatty acids: 615 mg/kg, Energy: 307 kcal/100 g, Additives per kg: Nutritional additives:, Vitamin A: 5124 IU, Vitamin E: 51.2 mg, Iron (Iron(II) sulphate monoydrate): 15.4 mg
Pedigree Rodeo™ with Beef Analytical constituents (%): Protein: 21.0, Fat content: 3.5, Inorganic matter: 5.7, Crude fibre: 1.5, Moisture: 20.0, Calcium: 0.80, Omega-3 fatty acids: 623 mg/kg, Energy: 294 kcal/100 g, Additives per kg: Nutritional additives: Vitamin A: 5185 IU, Vitamin E: 51.9 mg, Iron (Iron(II) sulphate monoydrate): 15.6 mg