---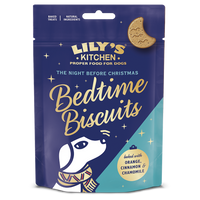 Lily's Kitchen Christmas Bedtime Biscuits
Lily's Kitchen
Regular price £3.50
Tax included.
Traditionally oven baked for that delectable crunch, these bedtime biscuits not only taste delicious, they're packed with tasty, natural ingredients that will help your furry companion fall into a restful slumber on the run up to the big day.
There's everything from festive cinnamon, chamomile and ginger in there. So you know your doggo's going to have a seriously good night's rest, ready for all the festivities to come. Merry Christmas.
Feeding guidelines: These treats are suitable for dogs from 4 months old. One biscuit before bedtime. Always make sure there's a bowl of fresh water available. We like to keep our four-legged friends fit and healthy so it's best not to feed them too many treats. Always supervise your dog when they're eating a treat. (Excited dogs can sometimes forget to chew!)
Composition
Rye, Oats, Rolled Oats, Sunflower Oil, Orange (2%), Cinnamon (1.5%), Ground Ginger, Nutritional Yeast, Chamomile(0.5%).
Nutritional Facts
Calories
338 kcal/100g
Analytical constituents
Crude Protein 12%
Crude Fat: 7%
Crude Fibres: 4.5%
Crude Ash: 3%
Moisture: 9%
Technological Additives
Antioxidants (Tocopherol extracts from Vegetable Oils).